Aker Horizons will be present at COP27 – 2022 United Nations Climate Change Conference.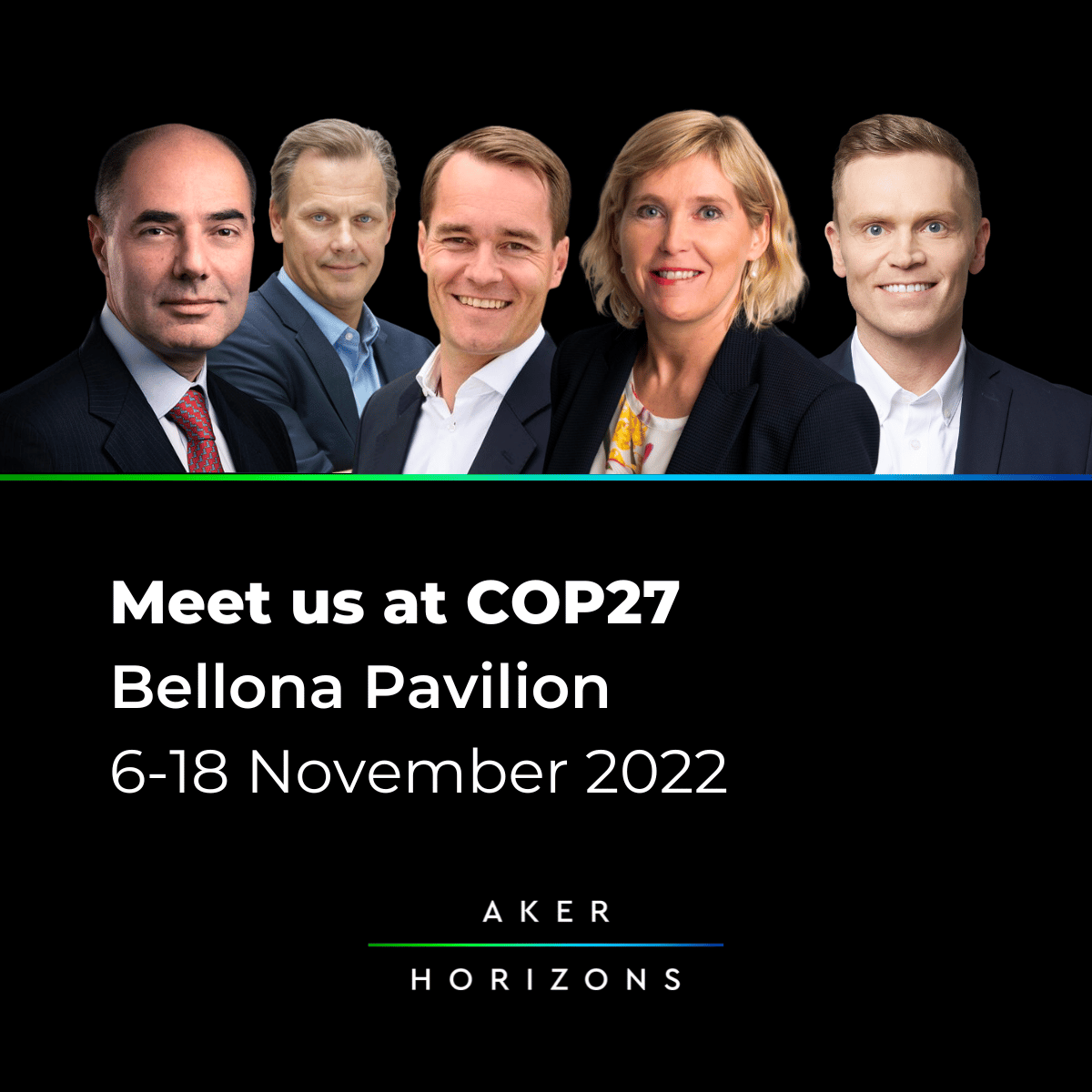 From 6-18th November 2022, Egypt is hosting the 27th Conference of the Parties of the UNFCCC (United Nations Framework Convention on Climate Change) in Sharm El-Sheikh.
An annual event, COP brings together the governments which have signed the UNFCCC, the Kyoto Protocol or the Paris Agreement.
World leaders, ministers, and negotiators come together to agree how to jointly address climate change and its impacts. Civil society, businesses, international organizations, and the media observe proceedings to bring transparency, as well as broader perspectives, to the process.
This year's COP aims to build on the outcomes of COP26 to deliver action on an array of issues critical to tackling the climate emergency – from urgently reducing greenhouse gas emissions, building resilience and adapting to the inevitable impacts of climate change, to delivering on the commitments to finance climate action in developing countries.
Aker Horizons is the official partner of the Bellona Pavilion in the Blue Zone, together with the Norwegian Ministry of Foreign Affairs and the Sahara Forest Project. We will be at COP27 to present our solutions to decarbonizing hard-to-abate industries within renewable energy, CCS, and hydrogen and participate in discussions on what is needed from a regulatory, industry and financing perspective to accelerate the transition to net zero.
If you are attending COP27 and would like to speak to us, please reach out to marianne.stigset@akerhorizons.com or ivar.simensen@akerhorizons.com to schedule a time for a meeting. You can also come find us at the Bellona Pavilion in the Blue Zone, Area C, Pavilion area 4, P 82.
Our official program at the Bellona Pavilion can be found here.
Aker Horizons attendees at COP27
Philippe Kavafyan, Executive Director (6-12th November)
Trude Sundset, Strategic Advisory and Business Development (6-12th November)
Marianne Stigset, Director of Communications and External Affairs (6-12th November)
Fridtjof Unander, Chief Economist (6-12th November)
Kristoffer Dahlberg, CFO Asset Development (13-18th November)
Gylfi Mar Geirsson, Business Development and Origination Manager (13-18th November)
Ivar Simensen, Communications Manager (13-18th November)
Selma Skov Høye, Sustainability Director (6-18th November)